Simple Steps to Boost Home Heating Efficiency
Cold winter temperatures can drive up heating costs. However, there are simple steps that can be taken to help cut those costs by making your home heating more efficient.
These tips from the Energy Education Council will increase heating efficiency and help you manage your heating expenses:
Adjust your thermostat based on your needs. While you are away at school or work, turn the thermostat down. You can also turn the thermostat down at night when you can cover up with blankets. A programmable thermostat can automatically make these adjustments for you.
Replace your furnace filter monthly to save energy and improve heat circulation.
Use sunlight's natural heat to your advantage by opening curtains and blinds on sunny days to warm your home.
Close your fireplace damper when you are not using the fireplace. This prevents heat from escaping and cold from entering through your chimney.
If you have older or leaky windows, consider temporary fixes, such as plastic film kits that create the effect of an interior storm window.
Weather stripping is relatively easy and available at your local home improvement store. Stop drafts from coming in and heat from leaking out of your home through drafty doors and windows.
Use caulk to seal gaps in the walls of your home or apartment. Wherever different building materials meet, or wiring comes out of a wall, there are gaps that may contribute to the loss of heat in your home.
Understanding Lighting Labeling (Efficiency)
Labels on light bulb packages provide detail on how much you can expect to pay annually for light bulbs and have information on the brightness and color of the light bulbs.
Lumens, not watts, are key to picking a bulb that is the right brightness. Although watts are listed on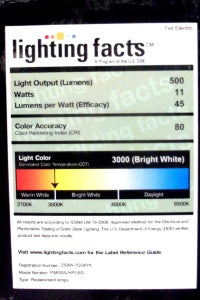 incandescent bulbs, watts are not an effective measure of brightness. Watts represent the units of power that it takes to light a bulb, whereas lumens measure the amount of light produced. The more lumens a bulb has, the brighter the bulb will be. The following comparisons outline the lumen measurement to look for that will produce the brightness previously gauged by the wattage use of older style incandescent bulbs:
100 watt bulb = 1600 lumens.
75 watt bulb = 1100 lumens.
60 watt bulb = 800 lumens.
40 watt bulb = 450 lumens.
Lighting labels also have information about the color of a light, ranging from cool to warm. Cool lights, which correspond with higher Kelvin temperatures, are better for visual tasks because they increase contrast. Warm lights, which correspond to lower Kelvin temperatures, are preferable for living spaces because they are more flattering. When you are shopping for light bulbs, find the spectrum on the package that shows how warm or cool the bulbs are.
Visit www.EnergyEdCouncil.org for more information.
Resolve to Make Electrical Safety a Priority (Safety)
Even if you do not traditionally make resolutions, the Energy Education Council's Safe Electricity program has one resolution you should definitely consider—protecting you and your home from electrical hazards. 
The following tips from Safe Electricity will help you to keep your home safe from electrical accidents: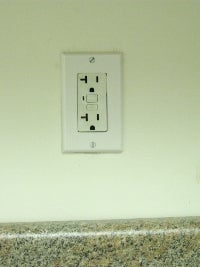 Electrical outlets – Check for loose-fitting plugs, which can be a shock or fire hazard. Replace missing or broken wall plates so wiring and components are not exposed. If you have young children in the home, make sure unused outlets are covered.
Faulty appliances/electronics – If you have appliances or electronics that have given you shocks, blown a fuse, or tripped breakers, replace them. Look for cracks or damage in wiring and connectors. Use surge protectors to protect expensive electronics. Make sure your appliances and electronics are placed in dry locations—away from all water.
Tamper Resistant Outlets – If you have young children, be sure tamper resistant outlets are installed in your house. Tamper resistant outlets only accept two or three pronged plugs. This means that a curious child will not be able to stick a paper clip or toy in an outlet.
Ground Fault Circuit Interrupters (GFCIs) – GFCIs should be installed in any area of your house where water and electricity are used—including the kitchen, bathrooms, and basement. GFCIs provide protection against shock from appliances that have come in contact with water, as well as damaged or defective appliances. A GFCI constantly monitors the flow of electricity through a circuit and will shut the circuit down if it senses a ground-fault. If your outdoor outlet is not already equipped with GFCI protection, use a GFCI extension cord.
Arc Fault Circuit Interrupters (AFCIs) – AFCIs are installed in your breaker box. AFCIs monitor current flow and can distinguish between normal, working arcs and unwanted, dangerous arcs. When an unwanted arcing condition is detected, it shuts down the circuit.
For more electrical safety tips, go to SafeElectricity.org.
Be Prepared for Snow and Ice Storms (Safety)
Heavy accumulations of ice and snow can bring down utility poles, trees, and limbs—knocking out power for days at a time. Snow and ice can also shut down communications and make transportation dangerous, if not impossible.
All these factors make it difficult to cope with a snow or ice storm once it hits, so preparation is essential. To prepare, the Energy Education Council's Safe Electricity program recommends that you have the following items on hand before a storm hits:
Flashlights with fresh batteries.
Matches for lighting candles and gas stoves or clean burning heaters.
Wood for a properly ventilated fireplace.
Prescription medicines and baby supplies.
Food that can be kept in coolers and a manual can opener.
A non-cordless telephone and/or fully charged cellular phone.
Bottled drinking water.
Battery-powered emergency lights and radio.
A home generator and familiarity with safe operating procedures.
Stay Safe and Warm in Snow and Ice Storms (Safety)
Power outages due to snow and ice storms are especially threatening because of extreme cold temperatures.
After a snow or ice storm, avoid going outside if possible. Downed power lines could be submerged in snow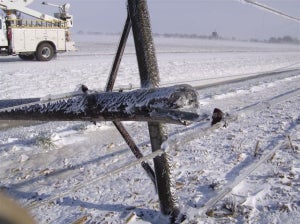 and ice, making them difficult to identify. When outside, treat all downed and hanging lines as if they are energized. Stay away, warn others to stay away, and immediately contact your utility company. Remember that downed power lines do NOT have to be arcing, sparking, or moving to be "live"—and deadly.
When the power is out because of a snow or ice storm, Safe Electricity suggests these tips to help you stay safe and warm:
Stay inside, and dress in warm, layered clothing.
Close off unneeded rooms.
When using an alternative heat source, follow operating instructions, use fire safeguards, and be sure to properly ventilate. Always keep a multipurpose, dry-chemical fire extinguisher nearby and know how to use it.
Stuff towels and rags underneath doors to keep the heat in.
Cover windows at night.
Keep a close eye on the temperature in your home. Infants and people over the age of 65 are more susceptible to the cold. You may want to stay with friends or relatives or go to a shelter if you can't keep your home warm.